Down to your last pair of contacts?
Don't have time to stop by to re-order your supply of contacts?
We all know that feeling.
Don't worry, we have an online ordering system that allows you to order your contact lenses right from your home! Click on the graphic to get started!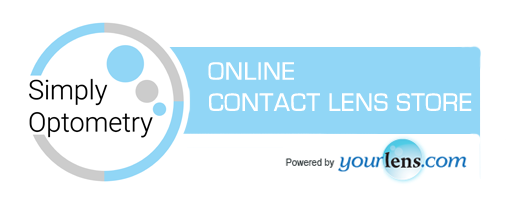 For more information about how to use our online ordering system, follow the directions below!
Step 1: Find your most recent contact lens prescription
It is important to have your eye health evaluated yearly when wearing contact lenses. That is why your contact lens prescription expires annually!
If you have an expired contact lens prescription, you'll need to come in to have an exam first. Use the link on the right to schedule one.
If you have your valid prescription from Simply Optometry or another office, then you're ready for step 2!
(Please keep in mind that your contact lens prescription is different than your glasses prescription... they're different!)
Step 6: Edit your shipping and billing addresses
Click "Add New Shipping Address" to enter your information. When you are done, be sure to return to this screen and edit your Billing Address as well. To do this, click on the "Billing Add." tab and follow the directions similar to how you added your shipping information.
Step 7: Enter your Contact Lens Prescription
Click on the "Order Contacts" link to get started. Refer to your written prescription to get started. Enter all the information exactly as it appears on your Contact Lens Prescription
(Note! Be sure you do not enter your Glasses Prescription!).
You will notice that you can save on both shipping and the price per box of contacts by ordering an annual supply!
Also at the bottom of the screen, please click the appropriate box if you are using a prescription from anyone other than Simply Optometry.
Step 9: Enter your billing information
Select your Billing Address, enter your Credit Card information, and submit your order!
You can also enroll in Auto Ship to save as well! We will automatically ship the same order to you in the designated time period, so you'll never be out of contacts! (Note: We will ship up to a year supply only unless otherwise designated by the prescribing doctor)