WHAT

IS GLAUCOMA?

Glaucoma is an eye disease that causes slow, painless vision loss as a result of damage to the optic nerve. It is most often associated with elevated eye pressure, though it is possible to develop glaucoma with normal eye pressure as well.

Peripheral vision is typically affected first but will eventually begin damaging central vision, ultimately resulting in blindness if left untreated. Because the early stages of the disease are generally symptom-free, your eye doctor has the ability to detect it before a patient experiences any changes to their every day vision.

It is a condition that affects a wide variety of individuals, so it is important for everybody to be screened for this condition. Certain individuals such as those with a family history of glaucoma, individuals over the age of 60, people of certain races, and those with a history of eye injury may be at higher risk for developing the condition, making it even more important for them to have their eyes thoroughly examined annually.
GLAUCOMA

EVALUATION

At Simply Optometry, we screen all of our patients for glaucoma during our comprehensive eye examination and offer the iWellness for an advanced screening. We have advanced equipment such as the OCT to assess our patients' risk for developing the disease as well as documentation strategies to track subtle changes in their eye health over time.

It is rarely possible to definitively determine if a patient has glaucoma at a single visit, so many follow-ups will be necessary for an accurate diagnosis. Some of the tests that must be done and repeated at each visit are measurements of intraocular pressure, visual field analysis, dilated examination, OCT, and photographs of the optic nerve.

There are many details involved in the initial diagnosis of glaucoma. It is important to provide an accurate and complete family history as well as personal medical and eye history to help our doctors assess your risk level.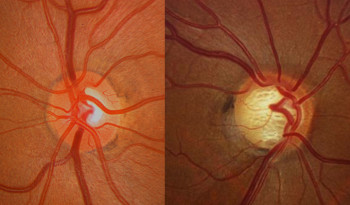 A normal optic nerve head shown on the left and a glaucomatous optic nerve on the right. Note the excavated center area of the nerve on the right.
GLAUCOMA

TREATMENT AND CARE

The primary treatment for glaucoma is to lower eye pressure using medicated eye drops, which prevents the progression of the disease. There is currently no cure available, so the drops must be used indefinitely. Sometimes it may be necessary to use more than one type of drop to achieve adequate lowering of eye pressure. Surgical options to lower eye pressure are also available, though most commonly are not done as a first method of treatment. Our doctors will determine which treatment strategy is most appropriate for each individual patient.

During treatment, it is extremely important to have regularly scheduled follow-ups so that any subtle changes in eye health, vision, or eye pressure can be carefully monitored. These follow-ups help the doctors determine whether the treatment being administered is effective or inadequate in controlling the glaucoma so adjustments can be made accordingly.

Some of these eye drops may cause unfavorable side-effects. Our doctors at Simply Optometry will discuss these side-effects with the patient before initiating treatment. It is also very important to disclose any and all health conditions and medications as well as allergies our doctors can prescribe a proper treatment regimen.

It is important for patients using drops to continue with the treatment regimen as prescribed! Eye pressure is extremely sensitive to any changes, so if the treatment scheduled is not followed, then it may be rendered ineffective.

Because glaucoma is painless and symptom-free in the early stages, treatment typically will not change anything the patient sees or feels, even if the medications are working. Even though you do not feel any improvement or changes, it is important to continue with treatment! Missed drops and spikes in eye pressure can cause irreversible damage to the optic nerve.

Again, early detection and treatment is truly the best way to prevent glaucoma from affecting your vision. It is a very manageable condition as long as the proper steps and precautions are taken- our doctors will help guide you in the right direction and keep your eyes healthy!

Worried about glaucoma? All of our doctors are certified to diagnose, manage, and treat the disease, so you are in good hands at Simply Optometry!